*This post may contain affiliate links. Please see my disclosure.
---
The Noom Diet Plan has been the weight loss plan that is popular with Millennials.
Noom is not only a weight loss plan, it is a lifestyle change.
The Noom Diet Plan works by not only concentrating on what you eat, but also why you eat the things you have chosen.
You can read more about what the Noom Diet Plan in the article: What is the Noom Diet Plan?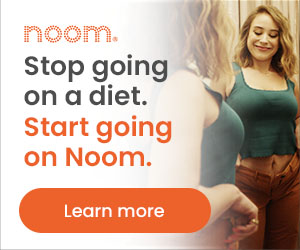 You get a Personal Goal Coach
Noom knows that it is challenging to loose weight.
They also know that it's even harder to stick to a weight loss program.
This is why Noom gives you a personal weight loss goal coach.
With Noom you aren't alone when it comes to changing your habits and lifestyle. You get someone to help you out along the way.
When you start with Noom you will be matched with your own personal health coach who will be available to answer any questions, provide tips, and help keep you on track.
Noom Is Not a Crash Diet
Noom is about changing your habits.
This is not a diet you are thrown into to struggle and give up when your life is totally changed because you were required to do a complete 180 on your diet from day one.
You will not be required to starve yourself.
With Noom you get to look deep into why you make the food choices you have been making. And then you get guidance on how to change those habits.
You Don't Have to Kill Yourself Exercising
With Noom you aren't asked to go and put your body through grueling workouts that leave you hurting and tired.
You just move more, even if it's for a walk.
Movement of your body helps give you energy and helps with weight loss.
Injuring yourself because you tried to do the most advanced P90X on day one is not the way to go about trying to loose weight.
The Noom Diet has 2 Types of Programs
With Noom there is a healthy weight program and a diabetes management program
With the Healthy Weight Program each food has a color that is based off the calories of that food.
With this color coding it makes tracking the amount of calories you eat much easier than having to find different values for everything you put in your mouth.
On the Diabetes Management Program there will be a smaller emphasis on calories and more focus on carbohydrate intake.
Noom Allows You to Plan for Social Eating
Many diets end up failing because you find yourself in a situation you weren't aware you might have issues in.
With Noom you are able to plan ahead for social gatherings, parties, work food days, etc.
This way you won't feel like you failed because you weren't able to stick to your diet.
If you can plan ahead, like Noom encourages you to do, you can't fail.
It Does Require Commitment
While Noom is a new approach to dieting and weight loss, it still will require commitment from you.
You have to commit to the process of changing your habits and to educating yourself on why you have chosen the food behaviors that you have been doing.
Commitment to moving your body is also needed. No weight loss program works for the long haul without a combo of changing food habits and making yourself more active.
The Majority of People Who Use Noom are Successful with Weight Loss
A study done with Noom dieters found that 60% were able to keep the weight they lost off for over a year.
Compare that number with the average dieter that follows a diet plan, 95% of them gain the weight back.
That shows that Noom is on to something. When you take a 5% success rate and compare that to Noom that has a 60% success rate, you can see that this is a weight loss program that works for the long haul.
Why Choose The Noom Diet Plan?
Trying to lose weight isn't an easy task.
What if you can slowly change your life to make better choices that affect your weight?
The Noom Diet Plan does just that.
With Noom, you can slowly adjust to diet changes. You can learn why you make certain choices when it comes to your diet. And you have a 1200% better chance at keeping the weight you lose off than other diet plans out there.
---